DrugRepurposing Online is a proprietary database, created by Numedicus, for finding new uses for existing compounds, containing both existing and abandoned drugs. Importantly, it is differentiated from other attempts to link molecules, targets and diseases, by focussing functional, experimentally validated content. On-line access for registered users to this search engine for finding secondary uses for such compounds is available through this portal.
Levels of database access
There are various levels of access, both free (restricted) and premium; the latter is available either by paying or by contributing. Users can add new examples of drug repurposing and receive rewards which may be used to offset — either in part, or in full — subscriptions to the database. In this way, DrugRepurposing Online is a community of like-minded investigators, and also a gold standard crowdsourced resource for this most efficient and attractive strategy for medicinal innovation.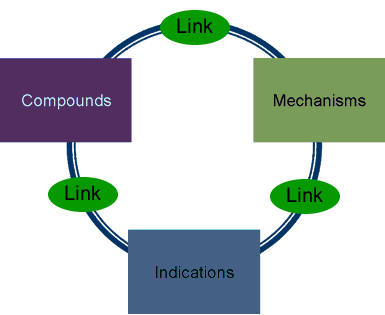 Database content
This database contains 9040 compounds which have been either launched, registered or investigated, covering 475 indications, with 1016 mechanisms. There are 3092 links between mechanism and indication, 837 links between compound and indication and 277 links between compound and mechanism -- so-called "off-target" effects. Overall this gives rise to
4206
repurposing opportunities for further consideration.
The database is populated with 4648 literature references, of which 1029 derive from prospective clinical studies or case reports, 234 from retrospective or case control analyses, 2035 are from pharmacological
in vivo
studies and 483 are from patents. The rest are
in vitro
studies or genomic associations.
The original Drugrepurposing Online database has recently been supplemented with access to information from the
Guide to Pharmacology
database (under a
Creative Commons Attribution-ShareAlike 4.0 International License
). Through this integration, Drugrepurposing Online has been supplemented with 9859 compounds (albeit, there is some overlap with existing information), and 19082 new interactions between compounds and mechanisms.