DrugRepurposing Online is a proprietary database, created by Numedicus, for finding new uses for existing compounds, containing both existing and abandoned drugs. On-line access for registered users to this search engine for finding secondary uses for such compounds is available through this portal.
Levels of database access
There are various levels of access, both free (restricted) and premium; the latter is available either by paying or by contributing. Users can add new examples of drug repurposing and receive rewards which may be used to offset — either in part, or in full — subscriptions to the database. In this way, DrugRepurposing Online is a community of like-minded investigators, and also a gold standard crowdsourced resource for this most efficient and attractive strategy for medicinal innovation.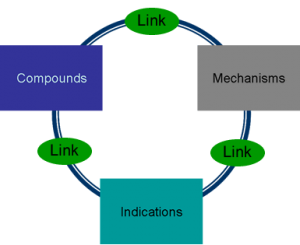 Database content
This database contains 9040 compounds which have been either launched, registered or investigated, covering 450 indications, with 742 mechanisms. There are 2816 links between mechanism and indication, 761 links between compound and indication and 218 links between compound and mechanism -- so-called "off-target" effects. Overall this gives rise to
3795
repurposing opportunities for further consideration.
The database is populated with 4210 literature references, of which 925 derive from prospective clinical studies or case reports, 213 from retrospective or case control analyses, 1873 are from pharmacological
in vivo
studies and 452 are from patents. The rest are
in vitro
studies or genomic associations.
Next...